Septic tanks and cesspits are one of the most popular ways of managing waste liquids in properties that cannot be linked to the public sewer system. However, as the owner of a septic tank or cesspit, it's important to understand that you are responsible for ensuring that it's emptied and in full working order, to avoid costly problems arising later down the line.
Here at Elliott Environmental Drainage Ltd, we are specialists in the maintenance of septic tanks and cesspits and we're proud to offer a range of services to suit you.
If you need your septic tank or cesspit cleaning or emptying, make sure to give our team of specialists a call today. We are proud industry leaders and we will be able to empty your sewage tank safely and in a responsible manner, thanks to our fleet of vacuum tankers.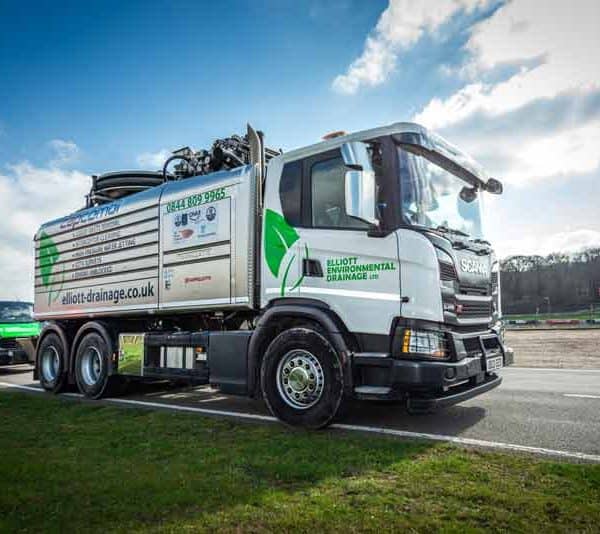 Emptying Your Septic Tank
Septic tanks need to be emptied regularly to ensure that any residual build-up is removed and that the overall system is kept in full working order.
Emptying Your Cesspit
Cesspits, or cesspools as they are also known, are very similar to septic tanks, in the way that they collect your waste and sewage. However, unlike septic tanks, they don't have an outlet and will not treat the waste. Cesspits will typically fill up much faster and require emptying more frequently.
Here at Elliott Environmental Drainage Ltd, we understand the intricacies of a cesspit and can offer you a tailored service when emptying and cleaning your cesspit.
Signs that Your Septic Tank or Cesspit Needs Emptying
Your sewage tank needs emptying regularly to prevent health and environmental risks that can be posed when the tank overflows or malfunctions.
Some telltale signs to keep an eye out for, that may show that you sewage tank needs emptying include;
Pooling water around the drain of your septic tank or cesspit, which could mean that the piping system is clogged and therefore, liquid is being forced to the surface.
Slow-draining sinks and toilets which aren't fixed when the drain in question is unblocked.
Unpleasant odours around the septic tank or cesspit.
Unusual plant growth around the tank.
Overflowing sludge on the water, in systems where sewage flows into the water.
In fact, British Water and the Environment Agency recommend that you ensure that your septic tank or cesspit is emptied annually, to avoid expensive repairs. Should you notice any of the above signs, make sure to get in touch with our team of septic tank and cesspit specialists immediately, as they'll be able to give you all of the advice you need.
Why Choose Elliott Environmental Drainage Ltd?
If your septic tank or cesspit is full and in need of emptying and cleaning, make sure to leave it to the experts. Here at Elliott Environmental Drainage Ltd, we are industry-leading specialists in drainage and with a large fleet of tankers, we'll be able to remove and dispose of the contents of a sewage tank in a safe and professional manner, with minimal fuss and providing evidence that everything was done to the highest standards.
We can also offer a septic tank cleaning service, where our qualified team of professionals will ensure that all of the lines into the tank are clear, check the soakaway and where needed, clear away any debris.
As a company, we are completely committed to ensuring that our customers are provided with an outstanding service that they can trust. That is why we are more than proud to have achieved a variety of certifications, including ISO 9001, 14001 and OHSAS 18001. Therefore, when you choose to work with our specialists here at Elliott Environmental Drainage Ltd, you can rest assured that we'll achieve the results you expect.
So, make sure to get in touch with a member of the Elliott Environmental Drainage Ltd team today to discuss your needs, requirements and how we can help you.