As important it is getting safe, clean and reliable water to your home, so is ensuring that it is properly taken away again once you have used it. Whether you've flushed the toilet, emptied your bath or used the washing machine, it is vital that all that water, also known as sewage or wastewater, is safely taken away back into rivers.
A sewage treatment plant will treat this wastewater as thoroughly as possible, so it can then be discharged into the environment.
Here at Elliott Environmental Drainage Ltd, we have over 50 years of experience in working with sewage treatment plants and will be able to give you all of the advice you need regarding keeping your sewage treatment plant working to the highest standards.
Available 24 hours a day, 7 days a week, our team of specialists will be more than happy to give you the help and advice you need, so make sure to get in touch today.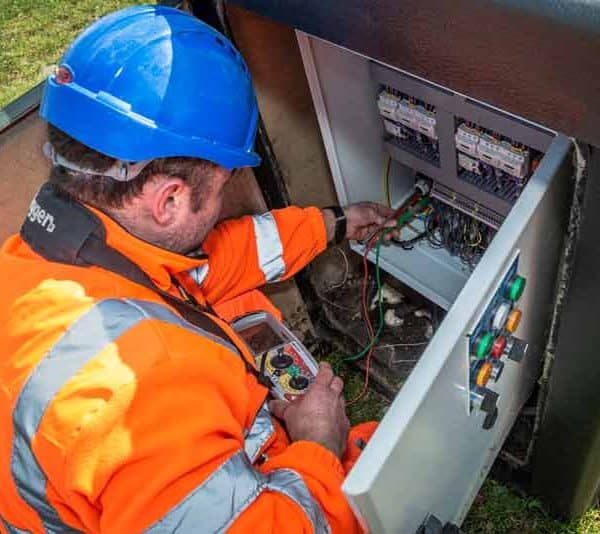 Why Are Sewage Treatment Plants Important?
Any development should be connected to the main sewers, to create a cost-effective and reliable method of dealing with wastewater. However, when a mains sewer connection isn't possible, this is where sewage treatment plants are helpful. 
A sewage treatment plant can be installed almost anywhere, as long as it has an electrical connection.
Do Sewage Treatment Plants Need Emptying?
A sewage treatment plant will treat wastewater thoroughly, meaning that it will need emptying from time to time. Over time, sludge and waste can build up throughout the system, so it is advised that you have a sewage treatment plant emptied regularly, to reduce the likelihood that you encounter problems with your sewage treatment system.
Why is Sewage Treatment Plant Maintenance Important?
It's important that you ensure that your sewage treatment plant is properly maintained by an expert, such as the team here at Elliott Environmental Drainage Ltd.
Unfortunately, should you neglect to maintain your system, you could face a range of problems. This can include;
Fines from the Environment Agency,
Breakdowns,
Unpleasant smells
Premature breakdown,
Contaminating the surrounding environment.
Why Choose To Work With Elliott Environmental Drainage Ltd on Your Sewage Treatment System?
Here at Elliott Environmental Drainage Ltd, we are proud to be specialists in sewage treatment systems. In fact, it is our goal to provide our customers with a professional and competitive service throughout SE England, Surrey, Essex, London and Kent of which they can trust.
To ensure a lifetime of reliable service, a sewage treatment system should be properly maintained on a regular basis, which is why we can offer both one-off visits and a maintenance schedule.
As a company, our team is completely ISO 9001, 14001, and 18001 certified and we've acquired various other globally recognised accreditations.
In fact, we're also proud to boast access to some of the latest and more advanced technology on the market, to ensure that our fleet of vehicles are fit for the job and provide you with a great service that you can trust.
Should you have any questions about the sewage treatment system servicing that we can provide here at Elliott Environmental Drainage Ltd, then make sure to get in touch today. We'll be more than happy to help.