Tunnels & Confined Spaces
Services Across
London, Kent & the
South East of England
Defined as anywhere that normal work movement and procedures are restricted, confined spaces include places such as sewers, basements, service tunnels and pipes. These spaces are also commonly used for transporting sewage, broadband, electrical cables and other such objects. Therefore, it's vitally important that tunnel and confined space cleaning is regularly carried out. Otherwise, excess water and other liquids could potentially ruin cabling and other objects running throughout the tunnel.
However, these confined environments can often lack oxygen and contain a high concentration of dust, making breathing difficult. It is vitally important that when cleaning and other work is required in a confined space, you hire a professional with sufficient training such as Elliott Environmental Drainage Ltd.
Here at Elliott Environmental Drainage Ltd, our team members are fully trained in working in confined spaces and have years of experience in the exact procedures and avoiding the risks involved in working in a confined space.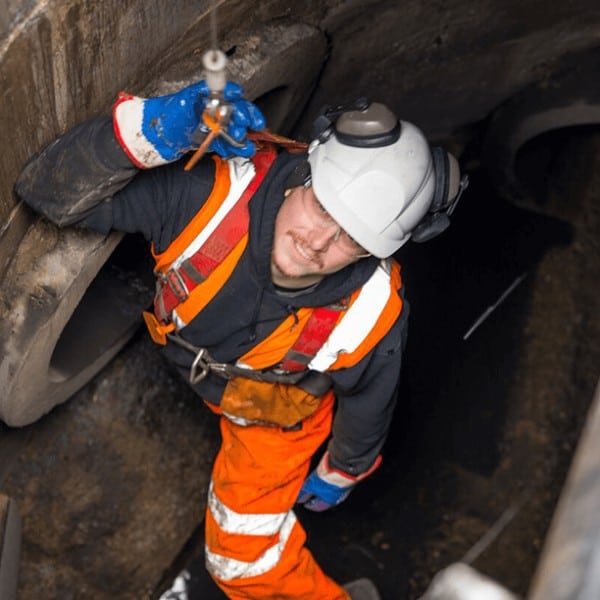 Working in a Confined Space
Before any work starts in a confined space, our team will carry out a thorough formal risk assessment and method statement. Without fail this will be completely specific to your site and will be used to devise an exact safe method of working. This report will also consider the task at hand, the working environments and the working materials.
Entering a confined space, however short the duration, can potentially be fatal to those without the right training and personal protective equipment. That is why our team here at Elliott Environmental Drainage Ltd will be fully equipped with all they need for the job at hand.
Why is Tunnel Cleaning So Important?
There is an ever-growing demand for tunnels, especially for essential infrastructure in cities such as London, where space is at a premium. Once installed, a tunnel will allow for 24-hour installation and maintenance access; however, they are susceptible to water ingress from both groundwater and stormwater.
Whilst infrastructure is expertly designed to withstand wet conditions, standing water will have a detrimental effect over a prolonged period, which can lead to long delays for maintenance crews, leaving them unable to access essential services.
Why Choose Elliott Environmental Drainage Ltd for Tunnel Cleaning and Other Confined Space Work?
Here at Elliott Environmental Drainage Ltd, we are proud to ensure an exceptional level of quality control in all of the work we carry out, to ensure that all work is of the highest standard. Therefore, our team members are highly trained in all aspects of working in confined spaces and have a huge range of experience in working on a range of projects.
In fact, to show our dedication to customer service and business processes, we have worked to achieve a number of certifications, including ISO 9001, 14001 and other globally recognised accreditations.
When you hire us for our tunnel cleaning and confined space services, our team will always aim to complete the work exactly to budget and on deadline. We can even include tunnel cleaning as a part of your company's PPM schedule, to ensure that any underground tunnels, chamber vessels, pits and interceptors are kept clean and clear. Therefore, you can have the peace of mind that any problems, which could cause long, costly delays, are identified and fixed as soon as they start to appear.
As a team we also aim to consistently update the technology on our fleet of vehicles, to ensure that we are fully equipt for any task and to offer our services 24 hours a day, 7 days a week across SE England, Surrey, Essex, London and Kent. In fact, we can also offer an emergency call-out service.
Should you have any questions about either our tunnel cleaning or any of our confined space services, make sure to get in touch with our team today. We'll be more than happy to help and discuss the task at hand to ensure that you are completely confident in us.