When searching for a commercial heating service, it's vitally important to work with a company you can trust. Here at Elliott Drainage, we offer a reliable, cost effective and energy efficient solution to both heating and boiler servicing across a wide range of commercial and industrial premises.
In fact, our customers rely on us to maintain the energy efficiency performance of their commercial heating systems and minimise breakdowns thanks to regular servicing.
Covering a wide range of commercial heating systems across Kent and beyond, here at Elliott Drainage we will work closely with you to provide a service that fulfills your requirements completely. If your commercial heating system is in need of repair or servicing, make sure to get in touch with our team of specialists today for a service you can trust and rely on.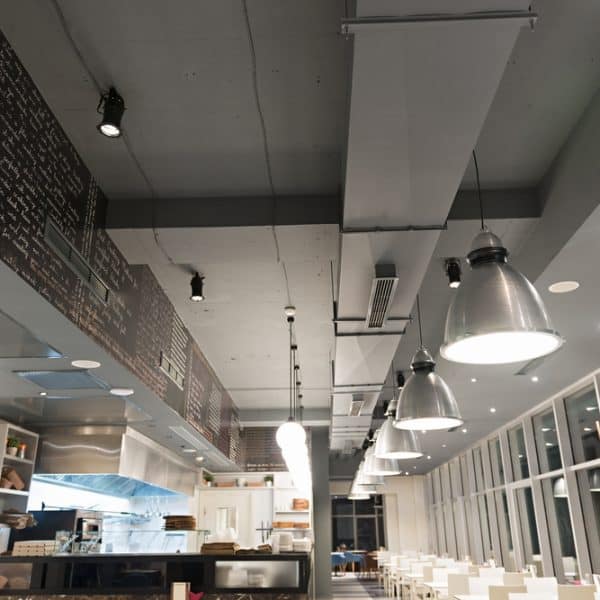 What Commercial Heating Services Do We Provide?
Here at Elliott Drainage, we can provide a whole range of commercial heating solutions, covering various types of commercial buildings. Our team of heating engineers will be fully qualified to work on both larger heating projects on an industrial scale and smaller jobs, including;
Schools, colleges and universities
Office blocks and commercial buildings,
Hospitals,
Shops and retail centres,
New developments and building projects,
Council offices.
What Does Our Commercial Heating Service Involve?
When carrying out a commercial heating or boiler service, our team of Oftec registered and GasSafe engineers will take the time to inspect all major components of your heating system and carry out safety checks to ensure that your whole system is working at its best. In fact, we will also suggest, should it be necessary, where parts may need replacing in advance to avoid major breakdowns later down the line.
We'll also ensure that your boiler receives a deep clean to remove any substances which could affect the efficiency of your heating system.
How Often Should Your Commercial Boiler Be Serviced?
If you are looking to keep your commercial boiler and heating system working at their best, you should ensure that they are serviced regularly.
This will help to increase their efficiency, extend their life expectancy and save you valuable time and money by keeping breakdowns to a minimum.
To be more specific, by professional recommendation, you should aim to ensure that your commercial boiler is serviced at least once a year. However, this may differ across various types of boiler and some may require more frequent maintenance.
If you believe that your boiler hasn't been serviced within the past 12 months, or it simply isn't working as well as it used you, make sure to get in touch with our team of experts today.
Choosing a Trustworthy Commercial Heating Engineer
When you are searching for a trustworthy commercial heating engineer, it is important to make sure that your engineer of choice has the right, legal accreditation to be safely working on your commercial heating system. In fact, two of the most important and widely recognised certification bodies within the UK are GasSafe and OFTEC.
A GasSafe Registered engineer means that they will be legally trained and permitted to both safely install and carry out works on all commercial gas appliances or gas boilers. They will also be able to provide GasSafe certificates, should a new commercial gas appliance be installed on a business premises.
Here at Elliott Drainage, our engineers are all experienced in providing commercial heating servicing and we will ensure that all industry working standards are met, both for safety and quality.
Heating Service Contracts
As mentioned above, ensuring that your heating system is fully serviced is vitally important. Here at Elliott Drainage, we'll be able to offer you a tailor-made service contract to suit you, your business and varying client budgets. Therefore, you can relax in the peace of mind that your heating system is serviced on time.
Why Choose Elliott Drainage?
If your commercial heating system is in need of either repair or servicing, make sure to get in touch with the experts. Here at Elliott Drainage, we are experts in commercial heating and thanks to our team of engineers, we'll be more than happy to give you all of the advice you need.
Make sure to get in touch with one of our expert engineers here at Elliott Drainage today to discuss your needs, requirements and how we can help you.