A gully is a concrete pot found positioned under a road surface. Typically, a gully will only be noticeable due to the iron gate placed on top of it. Gullies play a key role in stopping flooding on the UK road networks, as they collect water and then transfer it over to the main sewage network.
However, due to the nature of their purpose, gullies can accumulate a build-up of excess deposit and sediment which leads to them becoming blocked and preventing them from functioning correctly.
In order to ensure that gullies can work as they are intended, it is important that they are cleaned properly. Here at Elliott Environmental Drainage Ltd, our team are experienced in providing a five-star gully cleaning service and are fully equipped to tackle any cleaning that may be needed. In fact, we even have a 24-hour hotline, so no matter what the time, we can provide our gully services in an emergency.
Should you have any further questions about our gully services, or if you'd like to request a quote, make sure to get in touch with a member of the Elliott Environmental Drainage Ltd team today.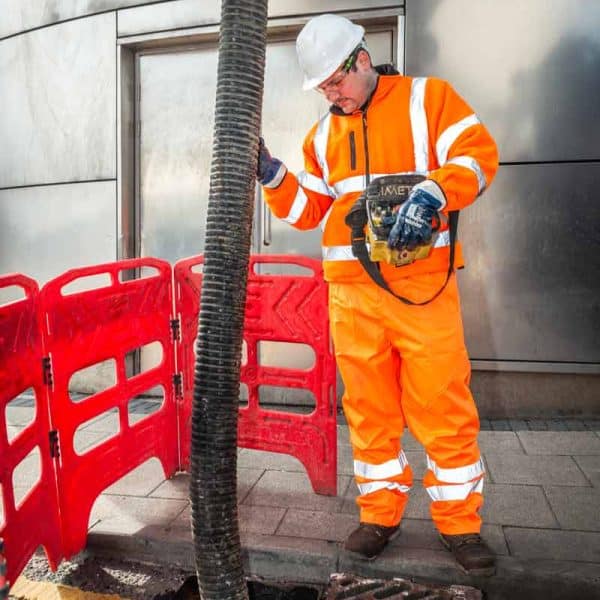 Our Gully Cleaning Service
Here at Elliott Environmental Drainage Ltd, we are dedicated to putting the customer first, which is why we provide an outstanding gully cleaning service. As a company, we are constantly updating our fleet of vehicles, including our gully suckers, and make use of advanced technology which combines powerful vacuuming with high-pressure water jets to ensure that the cause of a blocked gully is properly removed. Once the gully is cleared, we will also ensure that any groundwater is drained, as well as debris and mud left behind by the floodwater.
It's also important to note that gullies should be cleaned regularly to prevent any build up inside. If a build-up does develop within the gully, then it's more likely that it cannot function as designed, resulting in various drainage problems.
The Importance of Maintaining Gullies
As mentioned above, gullies are roadside drainage points, they play an essential safety role in making sure that the UK's roads are not overwhelmed.
However when they become blocked and water is allowed to pool, not only will it result in unpleasant odours, but it can also increase the risk of aquaplaning, making the road very dangerous for drivers. What's more, excess surface water will also lead to increased vehicle stopping distances, making it much more difficult and dangerous for pedestrians crossing the road.
Ensuring that gullies are kept clean and maintained will help to lengthen the lifespan and avoid any future repair costs.
Why Choose Elliott Environmental Drainage Ltd for Gully Cleaning
As a company, we are proud to have accumulated over 50 years' experience within the industry, carrying out a range of small and large-scale gully cleaning projects. Over the years, we have taken the time to refine our operations, which in combination with our high levels of training, allows us to provide an outstanding service, all at a cost-effective rate.
Our team is fully accredited, including ISO 9001, 14001 and OHSAS 18001. To us this is important, to show our dedication to business processes and providing our customers with the best service, guaranteed.
No matter whether the gully is located in a small residential estate or in a large commercial distribution centre, we'll be more than happy to discuss the task at hand and tailor our service to your requirements.
For more information on how our gully cleaning services can help you, make sure to get in touch with our team. We'll be able to give you all of the advice you may need and even provide you with a quote on the work at hand.