Interceptors are oil, grease and water traps that are used to collect a particular substance. It's important that an interceptor tank is emptied and cleaned frequently to avoid any blockages, which could resultantly not only present health, safety and environmental hazards, but also damage your business reputation.
Here at Elliott Environmental Drainage Ltd, we are able to efficiently and quickly clean your interceptors to ensure that they are working at optimal levels. Working 24 hours a day, 7 days a week, our interceptor specialists will ensure that you comply with the highest of standards and that all waste is correctly disposed of.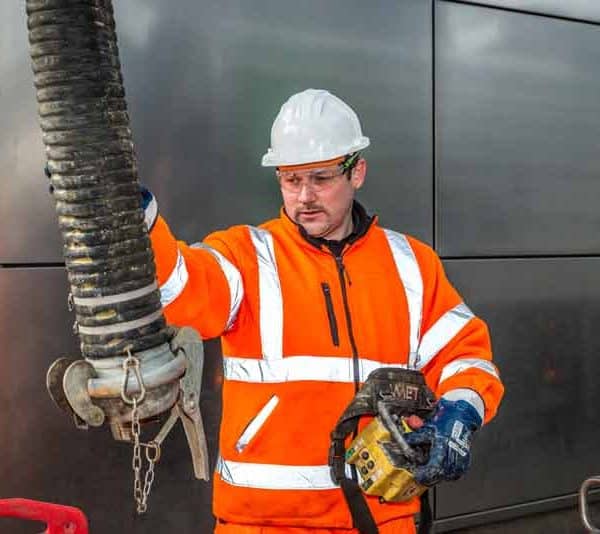 Why is Interceptor Cleaning Important?
Inceptors are an industry-accepted method of controlling liquid waste and are important in preventing unauthorised waste from making its way into watercourses and land drains. Should interceptor cleaning and maintenance be neglected, the interceptor tank will not fulfil its purpose, potentially causing blockages and surging.
Should waste make its way into the watercourse or local authority drains, you could find yourself facing prosecution, leading to costly fines and cleanup costs.
What's more, ensuring that your interceptor tanks are cleaned when needed, will help maintain the longevity of the interceptors, by ensuring that there's not a build-up of wastewater, debris and other such substances that could potentially cause problems in the interceptor.
How Often Should an Interceptor Be Cleaned?
How often your interceptors should be cleaned will all depend on the throughput of materials that the interceptor faces. The Environment Agency recommends that your interceptor tank should be emptied and cleaned at least every six months, however, should you notice any flooding, foul smell or bad drainage, it's important that you get in touch with the team here at Elliott Environmental Drainage Ltd immediately. We'll take the time to ensure that your system is fully cleansed and left in full working order.
Our Outstanding Interceptor Cleaning Service
Commonly when we arrive on-site to clean and maintain an interceptor, we find a build-up of oil amongst other substances. However, more often than not, many do not understand the full extent of the effects that a build-up of oil can have on interceptors and how they work.
Some oils can be incredibly corrosive and should an interceptor be left uncleaned and covered in a build-up of oil, it can prevent water from passing through easily, resulting in floods.
Therefore, we will make sure to physically check the entirety of the interceptor and ensure that it is working exactly as it should.
Proudly Operating a Fleet of the Latest Technology Combination Units Including Cappellotto & Whale.
Should your interceptor tank need cleaning, emptying, unblocking or simply just servicing, the team here at Elliott Environmental Drainage Ltd will be more than happy to help. As a company, we are committed to offering the best service we possibly can and we are proudly certified by ISO 9001, 14001 and OHSAS 18001. Therefore, you can trust us to achieve nothing but outstanding results, every time.
No matter how big or small the task at hand, we'll be able to take it on with confidence. Should you own a large interceptor and man-entry be required, all of our engineers here at Elliott Environmental Drainage Ltd are fully confined spaces trained and have experience in some of the largest gas and electrical plants in the country.
Make sure to get in touch today with a member of the Elliott Environmental Drainage Ltd team, to discuss how we can help you with interceptor tank cleaning, be that a domestic or commercial property.