Ensuring that liquid waste is disposed of properly can be a difficult task, especially if your business or organisation does not have the correct equipment to get the job done properly. However, failing to dispose of your liquid waste properly could potentially cost your business much more than you think.
Here at Elliott Environmental Drainage Ltd, we offer a wide range of liquid waste removal services, across SE England, Surrey, Essex, London, Kent and beyond. This includes the removal and clearance of;
Liquid Waste,
Wet Waste,
Contaminated Water,
Flood Water,
Cesspits and Effluent Tanks,
Drain Clearance,
Sludge Removal,
Hazardous Liquid Waste,
Bilge Water.
Choosing to work with experienced liquid waste removal specialists, such as Elliott Environmental Drainage Ltd, will not only ensure that you are fully compliant with laws and legislation, but it'll also help protect the environment and save your company money overall.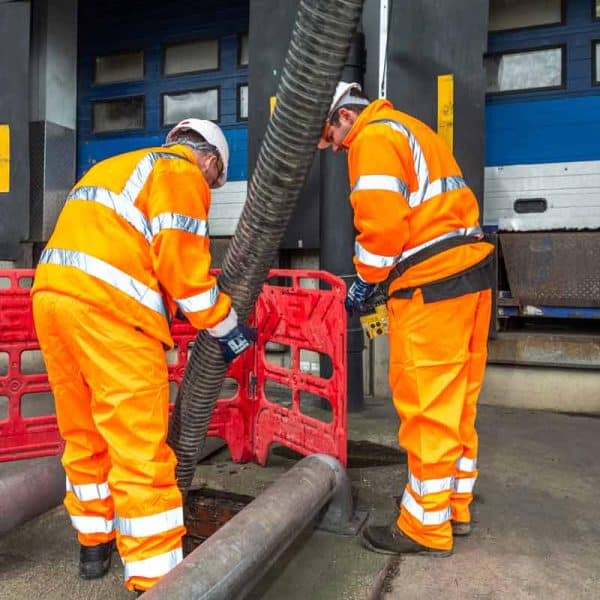 What is Liquid Waste?
Liquid waste is officially classified as any residue liquid which can be either hazardous or non-hazardous. In fact, liquid waste can originate from both commercial and domestic settings.
Typically, non-hazardous waste will be inconvenient, yet hazardous waste can pose a significant threat to both human health and the environment.
As a Company, What are Your Liquid Waste Duties?
Whilst all liquid waste still needs to be safely disposed of, hazardous waste has to be handled and disposed of incredibly carefully.
In fact, The Environment Agency states that any business that produces waste that falls under the hazardous waste regulations must ensure that:
Waste is stored safely,
The appropriate danger symbols are used on waste containers,
Each site that produces hazardous waste is properly registered
Only hazardous waste with the correct identifying paperwork is moved and transported
Full auditable records are kept of waste transfers,
Waste is managed safely and correctly by competent people.
As you can see above, the correct handling and disposal of liquid waste is incredibly important and any errors could cost your business dearly. Instead, why not entrust our experts here at Elliott Environmental Drainage Ltd. Our professional liquid waste management specialists will be able to provide your business with a cost-effective and efficient liquid waste removal that is fully compliant with all relevant waste removal laws and legislations.
It's also important to note that it is, in fact, a criminal offence to dump hazardous liquid waste. To avoid heavy fines and disreputability for your company, call our experts today.
To Ensure Proper Liquid Waste Disposal, Contact Elliott Environmental Drainage Ltd Today
As specialists in the removal and disposal of liquid waste, Elliott Environmental Drainage Ltd will ensure that you are provided with nothing but a professional and cost-effective liquid waste disposal service.
We care about the environment, which is why it's important to us that any waste is disposed of in a way that completely conforms to both local and national regulations. Therefore, when you choose to work with us, you'll have the peace of mind that your liquid waste is being properly dealt with.
Should you need it, we'll also be able to arrange and implement regular pick up days for your liquid waste and our contractors will be able to collect any wet waste and contaminated, dirty water whenever you need us.
What's more, should you find yourself in an emergency, our drainage specialist team is on hand 24 hours a day, 7 days a week.
Therefore, should you like to find out more about our industry-leading liquid waste management services, make sure to get in touch today. We look forward to hearing from you, answering any questions you may have and discussing your upcoming projects.