Commonly referred to as the most important part of your drainage network, pump stations must be serviced to ensure they stay in full working order. As with any mechanical system, a failure to maintain a pump station will more than likely lead to future breakdowns.
Pump stations are facilities used to collect and pump liquids such as surface water, wastewater and sewage away from areas where gravity drainage simply is not possible. This typically occurs in locations such as underground car parks, basements and blocks of flats.
Here at Elliott Environmental Drainage Ltd, we are proud to provide an exceptional pump station servicing service 24 hours a day, 7 days a week, even offering emergency call-outs.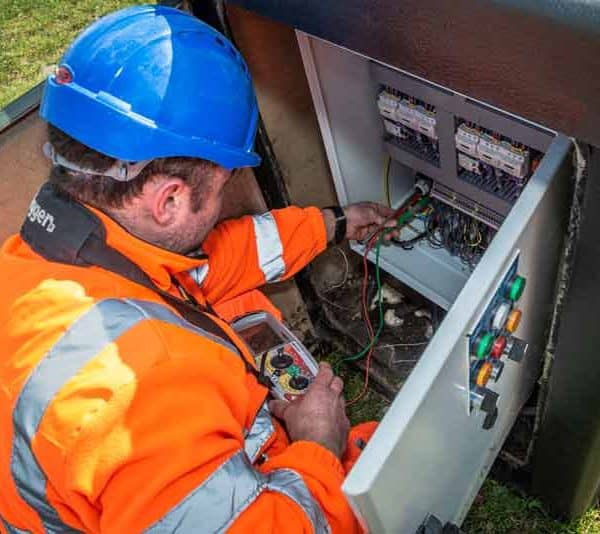 As a company, we are also proud to boast access to some of the leading technology within the industry, and as we are continuously updating our fleet of vehicles, you can be sure you'll receive a great service, including;
Pump servicing,
Waste removal,
Pump chamber cleaning,
Safe fat and grease removal,
We'll always be more than happy to help you with your pump station needs. Make sure to get in touch with our team of specialists today to find out more about our pump station servicing.
Why Should a Pump Station Be Serviced?
Pump stations play an important role in locations where waste from a building cannot reach the main sewers by gravity alone. They are specifically designed to handle and transport effluent waste.
When waste builds up and reaches a certain point in the system, the pump will lift it through a pipe system.
However, should this pump stop working, the whole process will fail, potentially causing floods, blockages and the entire system to break down.
Ensuring that your pump station is serviced regularly will not only reduce the likelihood of expensive breakdowns, but it will also extend the pump's life expectancy, as well as increasing its efficiency, in turn saving you money in running costs and call outs.
How Often Should a Pump Station Be Serviced?
You should ensure that your pump station is serviced by our team at least every 6 months. This will ensure that there are no blockages or other problems developing with the system.
It's important to note that you should always choose a trained expert to service your pump station. This is because a pump, as with all forms of electro-mechanical equipment, requires careful, calculated maintenance to ensure that it keeps working to its fullest potential for many years to come.
Find Out More About Pump Station Servicing With Elliott Environmental Drainage Ltd
Here at Elliott Environmental Drainage Ltd, we are proud specialists in the servicing of pump stations. It's our company ethos to provide our customers with nothing but professional and competitive service that our customers across SE England, Surrey, Essex, London and Kent can trust time after time.
We have a team of highly trained engineers, who have years of experience in working with pump stations. In fact, as our dedication to business process and customer service is second to none, we have achieved many certifications, including ISO 9001, 14001 and various other globally recognised accreditations.
We can also offer our pump station servicing as either one-off cleans or as a part of a PPM contract. Our team will be more than happy to service your pump station, no matter what the size and they'll ensure the highest hygiene standards are followed, to carry out both the emptying and maintenance of your pump station with minimal disruption to your day-to-day routine.
Should you like to find out more about the pump station servicing we provide here at Elliott Environmental Drainage Ltd, or should you have any questions, then make sure to get in touch with a member of the team today. We'll be more than happy to help and discuss the task at hand, no matter how big or small.